---
Underground parking in Hamme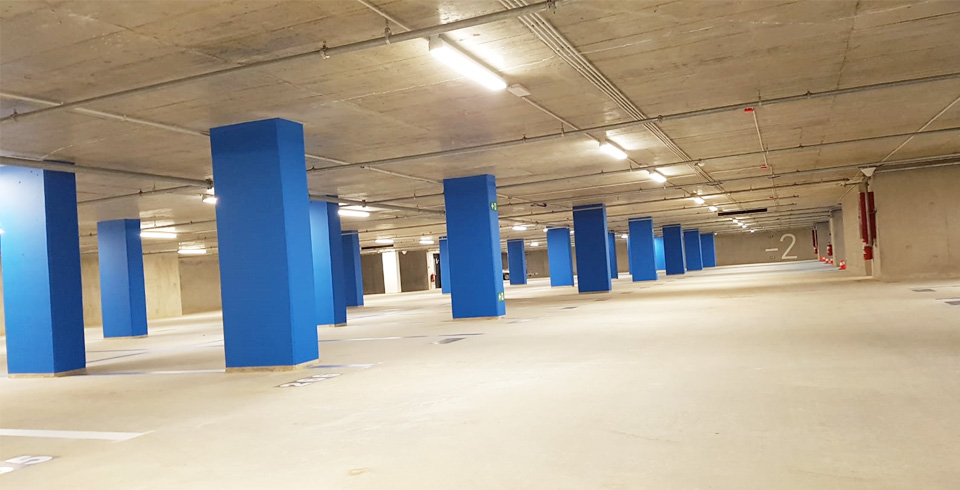 The brand new underground parking lot of the municipality of Hamme was recently delivered and is equipped with the Voltron® fixtures "The Parker".Thanks to the special mounting brackets, the luminaires can be positioned in such a way that it is possible to illuminate a part laterally by tilting them.This resulted in a perfect light distribution and a reduction of 19% in the number of luminaires for the same lux result.This parking is equipped with The Parker 58W opal (TP-DW-OP-58W).The sturdy aluminum finish (6063-T5) and the impact resistance of IK08 make The Parker the perfect fixture for efficient and effective illumination of underground parking garages.The special opal cover provides a unique, clear experience as soon as one enters this underground parking space and also ensures that there is no glare (UGR <19).
---
Some satisfied end customers
Ideas and concepts
We invest a lot of time and research into new concepts, products, technologies. That way we can always provide our customers with up-to-date high-end products.
Latest new technologies
Optimized production and flexible R&D developers result in the latest new up-to-date technologies.
Design & OEM
We produce OEM products and specialize in custom development.
Circular LED
Our products are produced in such a way that all critical parts are replaceable, ready for a second, third, fourth, ... life cycle. This is a real win situation in your investment in the medium long and long term.
---